Song O' Sky Chorus is proud to have the following quartets associated with our chorus. We endorse all of them as excellent singers and entertainers, suitable for any occasion...
---
Class Act Quartet
CLASS ACT QUARTET
In the summer of 2014, four teachers decided to combine voices to see if they had a blend that might be quartet-worthy. They did, it was, and the result is Class Act.
If we combine our years in education, we have put in over 75 and covered Grades K-college. Although our professional experiences are very different, musically we are all on the same page in our love for creating barbershop-style harmony. In this foursome, all are always on time, each is the perfect student, no one has to be "sent to the office" for misbehaving, and everyone gets an A. We are, indeed--a Class Act.

Singing Lead is Jane Briggs who has many years' experience as a music leader/pianist in her church and who keeps us in musical alignment. Bass, Sylvia Easterling, began her career as a Sweet Adeline singing Tenor in several quartets, but luckily for us she is happy to have moved on down into the Bass range. Bari, Wendy Bell, has always sung baritone and considers it the "best of all four parts because it is a challenge." She has sung in several quartets, and this one is a favorite. Tenor, Pam Knighten, studied music in college and like Sylvia, is vocally versatile. She began her Song O' Sky career as a Lead but has now switched to Tenor, the part which she considers "the perfect fit."
"No more pencils no more books; no more teachers' dirty looks."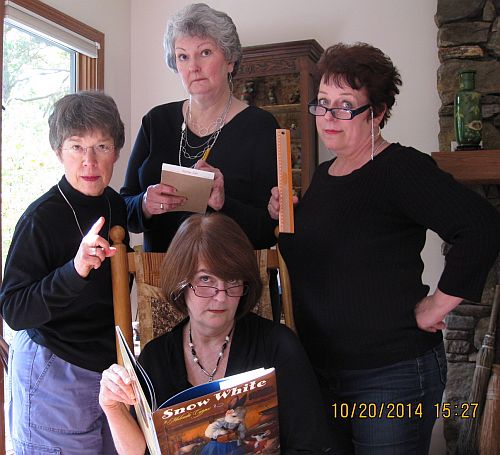 L-R Wendy Bell, Sylvia Easterling, Jane Briggs, Center-Pam Knighten

General public contact:

828-450-7174
Area of operation:
Asheville
State:
NC
---
Fast Forward Quartet
FAST FORWARD QUARTET
Our newest quartet came on the scene in the fall of 2018. Pam Knighten, tenor, and Jane Briggs, lead, wanted a quartet within Song O' Sky Chorus. When new members Maryann Morley and Joyce Arrington (bass and bari) joined the chorus there was a sense of hope.
These new members are no novice singers. Maryann sang with SOS, then Carolina Style and now residing in Asheville, has returned to SOS. Joyce sang with Public Times Chorus in Williamsburg, VA and now lives in Canton. She has served many years as pianist and music leader in her church.
The quartet tried their blend to find that their final chords really ring. That's all it took!
Now coming to you from four WNC counties is Fast Forward!
General public contact:
Maryann Morley

Area of operation:
Asheville
State:
NC
---
Indigo Blue Quartet
This quartet is no longer active.
General public contact:
Sherry Sprague

Area of operation:
Asheville
State:
NC
---